English MBSR Mindfulness Training Amsterdam 
Mindfulness for the 21ste century
Next English MBSR mindfulness training, corona-proof:
18 March – 6 May + 18 April
Location
De Roos, PC Hooftstraat 183, Amsterdam (Vondelpark)
Time
19:00 – 21:30
Your contribution: €425,- excl vat (incl vat €514,25)
Companies: € 950,- excl vat (incl vat €1.149.50)
Reimbursed by the insurance.
Also possible on an individual basis
Finding a carefree life in a hectic world
Being an expat or a non-Dutchie in The Netherlands must be very exciting. In the late 90-ties I lived in New York for a few months and it was one of the best times of my life. But I know being abroad can also be challenging and sometimes quite stressful.
Maybe you feel the pressure of a demanding job. Maybe you still have to find your way in a new country, in a new town. Or maybe you just feel overwhelmed by this hectic 21ste century where everybody wants a part of you…
Mindfulness might be a solution. 
This 8 week MBSR mindfulness training gives you the tools to deal with stress and the challenges of daily life. So that you can be more mindful, find your authentic self, and live life to its full potential. 
Design English mindfulness Training Amsterdam (MBSR)
In eight weeks you learn the techniques of mindfulness through four different mindfulness meditations, theory and exercises about mindfulness and home practice.
A dedicated workbook with theory and home exercises and audio files assist you in your home practice. During the sessions you will be helped to reflect on your learnings in guided explorations of experiences and insights. This usually generates a pleasing atmosphere in the group and often lead to valuable friendships.
The meditations for home practice last around 30 minutes. It's advisable to save about one hour per day for home practise. Don't worry if you can't make it every day, but just like studying to play a new instrument, the more you practice, the more you will get out of it.
What will you get? 
8 sessions of 2½ hours (7 – 9:30 PM)
1 Day of practice (9:30 – 1:30 AM)
Workbook with education and exercises
4 audio files with guided meditations
Location
De Roos, Vondelpark Amsterdam
Dates 2021
18 mrt – 6 mei + 18 april
4 nov – 23 dec + 4 dec
If these dates don't match your agenda or if you want to start earlier, you can also follow an individual MBSR Mindfulness course. 
Your contribution 
Individuals: €425,- excl btw (incl btw €514,25)
Companies: €950,- excl. btw (incl vat €1.149,50)
Compensation
More and more insurance companies are willing to cover the cost of mindfulness trainings (mostly between €100,- and €350,-). Wineke van Aken is a VMBN certified Mindfulness trainer (category 1) which fits the insurance requirements. Conditions and prices may vary and can be compared via www.zorgwijzer.nl
Employers, businesses and schools understand the benefits of mindfulness and often  agree to finance the course (for example out of a training or coaching budget). So it is worth mentioning it in the workplace.
 
You can follow this 8–week MBSR mindfulness training in  a group or on an individual basis. For the individual mindfulness  course we follow the MBSR curriculum, but there is space for specific themes in your life and the schedule will be adapted to your availability. 
 I highly recommend this course! Wineke is a wise, patience, generous and gentle leader of mindfulness practices. I learned a great deal, deepened my own practice and I still carry Wineke's teachings with me in my daily life. Reminders about 'interruptions' being neither good nor bad, have been helpful not only in my practice, but in my daily life, as I work and engage in creative activities.
Kimberly L. Teacher, Leiden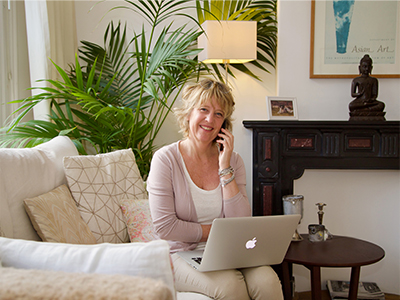 Not sure? Have a chat.
If you are interested, we can have a talk, by phone or in person. Then we can see if there is a click and decide if mindfulness can help you. 
Or learn more about mindfulness first… 
Origion of  the MBSR Mindfulness Training
It was about thirty years ago, at the University of Massachusetts Medical School, that Jon Kabat-Zinn took mindfulness out of its Buddhist context and made it more accessible to the western world. Kabat-Zinn developed the 8-week Mindfulness Based Stress Reduction program MBSR to help people suffering from chronic illnesses find balance and joy despite their difficulties (MBSR stands for ).
He created a technique to deal with stress and to improve quality of life, of which he already in the beginning started to measure the results.
To this day, countless other research studies prove that the practice of mindfulness leads to better relaxation, better stress handling, better concentration, more effective decision making, increased efficiency and improved general health.
Wineke is a great mindfulness guide. She has one of a kind compassionate way in listing to you and guiding you through the mindfulness journey. I wold totally suggest her trainings and I look forward to more meditation workshops with her. 
Elsa Ndoja
If you'd like to learn more about the art of meditation, the comfort in silence and learning how to "just be" in the moment, you need to study mindfulness. It gives you important tools to understand how to handle the chaos inside – and outside – our minds!
Stephanie – writer/journalist
Wineke is a good teacher. She has – with mindfulness and meditation – openend my eyes and heart. I am so grateful to have met her.
Maud
I loved every bit of it! Wineke has been a great guide in this journey of mindfulness and meditation. I learned that it's ok to 'be'. Just letting things come and go, not pushing it or resisting, but mindfully watching it as an audience of a movie. Being mindful is an act of kindness towards ourselves and towards others and it therefore needs to be nurtured with utmost care and love in our daily lives. 
Shafaque Rahman
Wineke is very knowledgable and experienced in MBSR Mindfulness.
I would recommend this training to everyone. 
Fabiana Fini
Wineke van Aken, founder of MettaMind, is certified Mindfulness trainer with more than 10 years experience. She helped more than 950 people in their journey to a healthy and happy, mindful live. She offers English MBSR mindfulness courses in Centrum De Roos in Amsterdam (in the Vondel Park).
The first time Wineke taught mindfulness it was in the basement, near the server room at the company where she worked. She did it during her lunch break as a favour to colleagues.
She was a senior consultant at a busy communications agency part Publicis, one of the biggest communication-groups in the world. For 17 years she had been a marketing/communication specialist working for companies such as Rabobank, Sanoma, Phillips and local governments.
To compensate her hectic work schedule she practiced yoga and meditation at a local club. She became more and more skilled and was invited to follow a teacher training in order to help others practice with her.
She then convinced her employer to dedicate a room to yoga at work. She was given a budget to buy mats and pillows and invited her colleagues to attend her classes for free during the work day.
Via one of those colleagues, she was asked to organize a yoga retreat in Bali which made her fall in love with the concept of retreats in beautiful places.
Outside of work, she opened a few private groups. Via word of mouth those groups became bigger and bigger. So Wineke continued training herself and gained enough confidence to give up her career and set up MettaMind.
CAREER CHANGE
The mission of MettaMind is to make yoga and mindfulness accessible as a tool to gain a quiet mind and a balanced life, so we can live healthy, content and without stress. MettaMind does this by offering retreats in Bali, in Ibiza and Italy as well as Dutch / English mindfulness coaching and Dutch / English Mindfulness training in Amsterdam.
When Wineke's life partner Dean became a chef specialized in ayurvedic recipes, she integrated this healthy eating into MettaMind by offering these as standard meals during the yoga retreats.
She also wrote a book 'De Metta Cirkel, published by 'Uitgeverij Lucht' which is founded by Bram Bakker, a well know psychiatrist and publicist, so that her vision on how to attain a balanced and happy life can be shared largely.
Her pupils have described her as a teacher who is kind, relaxed, friendly and with a good sense of humor.
Wineke regularly attends courses, supervision and silent (Vipassana) meditation retreats. This she does for her own pleasure and to maintain a high quality in her trainings and her personal embodiment of mindfulness.
MettaMind in the news.
A Dutch RTL4 lifestyle-program came to visit MettaMind.
Here the clip (in Dutch).
If you are interested in reading more about Wineke
and her coachings- and mindfulness programs,
you can easily use the Google translate option.
They do a great job these days 
.
SUBSCRIBE
ENGLISH MINDFULNESS TRAINING AMSTERDAM